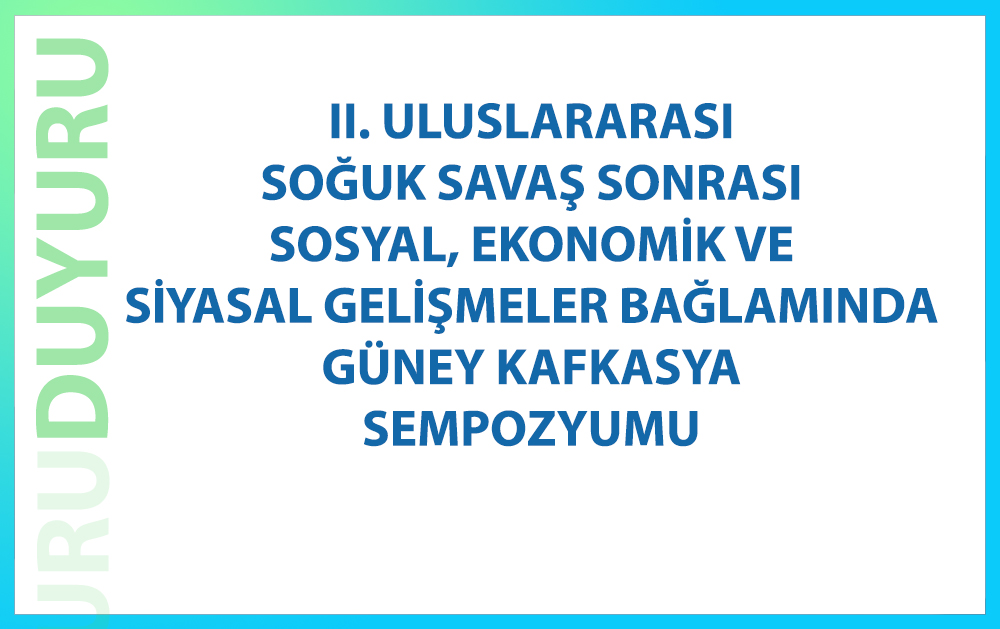 Announcement
Announcement
Ege University Institute of Turkish World Studies and Academy of the State Customs Committee of the Republic of Azerbaijan,
have aimed to evaluate the latest changes in the South Caucasus and has decided to organize "II. International Symposium on the South Caucasia in the Context of Social, Economic and Political Progresses after the Cold War"

on 12-13th April 2022

. The main subjects, which will be handled on the symposium can be listed as:
- South Caucasus and Turkic World,
- The Problem of "Othering" in the South Caucasus and the Offers for Solution
- Military Cooperation in the Region
- Regional Treaties and Regional Conflicts
- Energy Policies
- Security Issue
- Protection of Cultural Heritage in the South Caucasus
- Social and Cultural Developments in the region
- Risks and Opportunities in the Future of the South Caucasus,
- Economic Opportunities in the Development of the South Caucasus,
- 2nd Karabakh War and Its Results,
- Effects of Global Tension on the South Caucasus,
- International Organizations and the South Caucasus,
- The New World Order and South Caucasus.
We will appreciate and be very honored by your attendance. If you wish to participate in the symposium, you are supposed to send "Application Form" to our contact address, "sogukaf@gmail.com". The deadline for sending your papers is 15th April 2022. Submitted papers will be evaluated by the "The Referees Committee", and the accepted ones will be informed via e-mail.
You can click the link below to find the application form and the details of the symposium: