Programs and Dates
APPLICATION & PREREGISTRATION
For the application of a preregistration to the Turkish Teaching Center (TÖBİR/TTC) at the Turkish World Research Institute Of Ege University:
1. Photocopy of passport pages containing your name and surname, passport number, father's name and date of birth. (If the passport does not include the father's name, this information must be shared)
2. A receipt for depositing the preregistration fee of 2.400 TL into the account shown below . This fee will be deducted from the the final registration fee.
These informations and documents are submitted to the TÖBİR (TTC) secretariat.
To make an online application & pregistration via mail, please send these informations and documents to our mail addresses: tobir@mail.ege.edu.tr
Bank account information for payment:
Bank: Ziraat Bankası Ege Tıp Şubesi
Account Name: Ege Üniversitesi Rektörlüğü DSS
IBAN : TR63 0001 0014 4607 2168 9350 56
FINAL REGISTRATION
Please submit a copy of your passport, and two portraits for final registration. Also, those who want to enroll in TTC must fill in the "Student Registration Form" that is presented by the secretarial of TTC. You can find a table showing course fees and course schedule below.
INSTRUCTIONS
Those who have paid for the preregistration or final registration fees will not be paid back in the event that they do not attend to courses for any reason.
Institute of Turkish World Studies Board will give a discount to students who are from any Turkic countries and/or has a document that shows s/he is Turkish.
Online application and registration is available via tobir@mail.ege.edu.tr, the others must execute all registration procedures at secretarial of TTC in Institute of Turkish World Studies.
COURSE FEES AND BANK ACCOUNT NUMBERS FOR APPLICATION/PREREGISTRATION FEES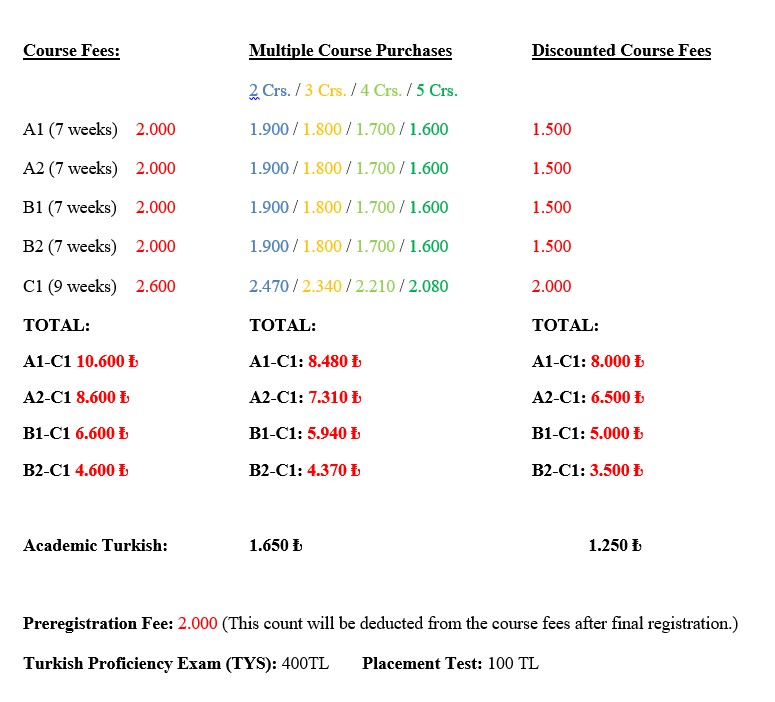 Necessary Papers for the Registration:
Portrait (x2)

Passport or Identiy Card

Form (will be given during the registration)

A payment paper which is given by the bank (bank account information is below)
Bank: Ziraat Bankası Ege Tıp Şubesi
Account Name: Ege Üniversitesi Rektörlüğü DSS
IBAN: TR63 0001 0014 4607 2168935056
ACADEMIC CALENDAR 2020-2021
Course Start Date: 26.10.2020
Course End Date: 30.07.2021
A1 Course Dates: 26.10.2020 – 11.12.2020
A2 Course Dates: 14.12.2020 – 29.01.2021
TERM TIME: 01.02.2021 – 12.02.2021
B1 Course Dates: 15.02.2021 – 02.04.2021
B2 Course Dates: 05.04.2021 – 21.05.2021
C1 Course Dates: 24.05.2021 – 30.07.2021
When the sufficient number of students is reached out of October, new courses will be opened. You can send your request to tobir@mail.ege.edu.tr and get information.